What's Cooking at DES? Unusual Pairings with Food Tech Entrepreneurs
September's Clay with Your Food event sponsored by CoreNet, ISPE and I2SL joined Bay Area Food Tech entrepreneurs, top chefs, real estate brokers, architects, and interior designers (and others) for an evening of learning and artful experimentation. Over 200 people attended.
Two DES leaders—Kevin D. Norman, San Francisco Office Managing Principal, and Kirsten Fordyce-Wheeler, Director of Interiors—were instrumental in spearheading this event on behalf of two of the three sponsoring organizations, ISPE and CoreNet respectively. 
We asked Kirsten and Kevin to share their perspective on this unusual evening—their inspiration for it, their top takeaways, and their thoughts on what's ahead.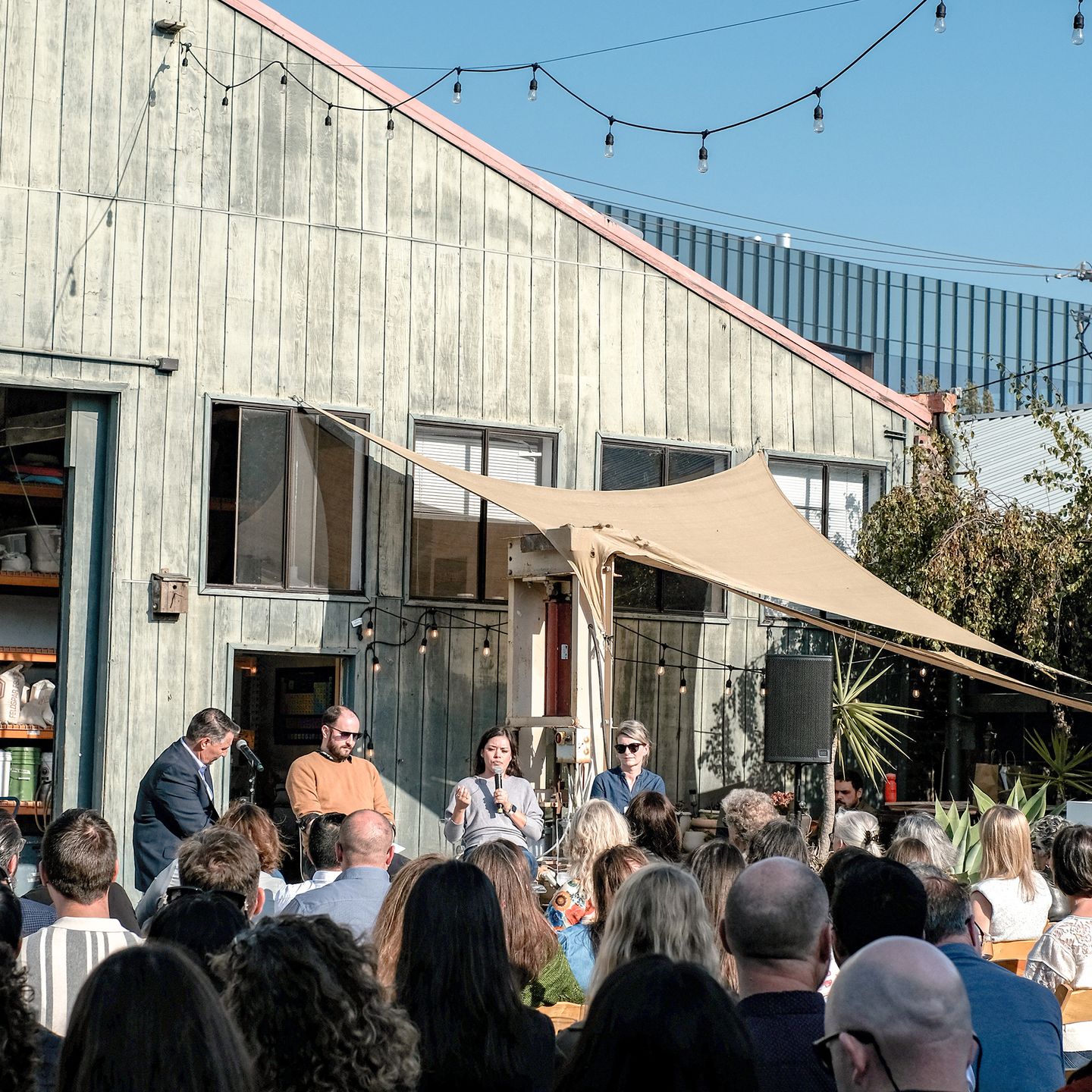 Gordon Zagar (Left) leads a panel of Food Tech founder-scientists: Michael Selden of Finless Foods, Doni Curkendall of The Better Meat Co., and Dr. Kasia Gora of SCiFi Foods.
Tell us about the event and what inspired it.
KFW: We wanted to celebrate the creativity and ambition of the Food Tech pioneers who have changed the real estate topography of Emeryville as the next wave of life science innovation. Their work developing alternative protein sources will help bolster future food supply as the dual forces of climate change and world population growth alter the traditional supply and demand model. It's a fascinating field, and we love food in the Bay Area.
KN: DES does a lot of innovative design work for Life Sciences developers and companies—we recently wrapped up The Lab, an adaptive reuse of Emeryville's former Sherwin Williams property for Blue Rise Ventures—so we're attuned to what's happening in this area. As a Silicon Valley-based, multidisciplinary design firm, we have always found inspiration in the stew of new industries and new approaches, so when Kirsten suggested we consider an event that provided insight on this emerging industry, our colleagues at CoreNet, ISPE, and I2SL were enthusiastic.
DES's Kevin Norman welcomes the crowd on behalf of ISPE, one of the event's sponsors.
KFW: As CoreNet's last program event of the year, we wanted it to be educational and fun! It made sense to host it locally, so we looked to Jered's Pottery whose vibe and venue seemed a natural fit: we could enjoy a warm, Bay Area September in their private back lot, and maybe put their kilns to work as a makeshift kitchen.
Hosts Sarah and Jered, of Jered's Pottery, which provided an unexpected and hospitable venue for this event.
There were a lot of moving parts to this event: Scientist-entrepreneurs spoke and served on a panel moderated by Gordon Zagar. Their wares were the focus of a judged cooking competition among top Bay Area Chefs, who prepared dishes on site with the kiln as a heat source. And then the Scientists took part in a competitive spin on the potter's wheel, making ceramic vessels. How did it all go?
KFW: When I approached the program committee at CoreNet with this idea initially, half of the committee thought I was crazy! But others were excited that we were thinking outside the box. (This event is definitely outside of the proverbial box.) Collaboration with creative people often takes you down unusual paths, and everyone was open to ambition. Jered's Pottery had hosted a similar competition in the pre-pandemic past, so we were confident that it would be great. Their outdoor venue and fabulous catering also helped, and we were grateful that the weather cooperated! We've heard nothing but great reviews. It's not every day that you get such a sensory experience as part of a professional development and networking event.
KN: Yes, there was a lot going on! And all the participants really enjoyed themselves.
KFW: One of the cool things about the event is that we went beyond the typical panel, where the scientists talked about the alternative proteins they are producing: we demonstrated how they could be prepared in a fun and elevated way.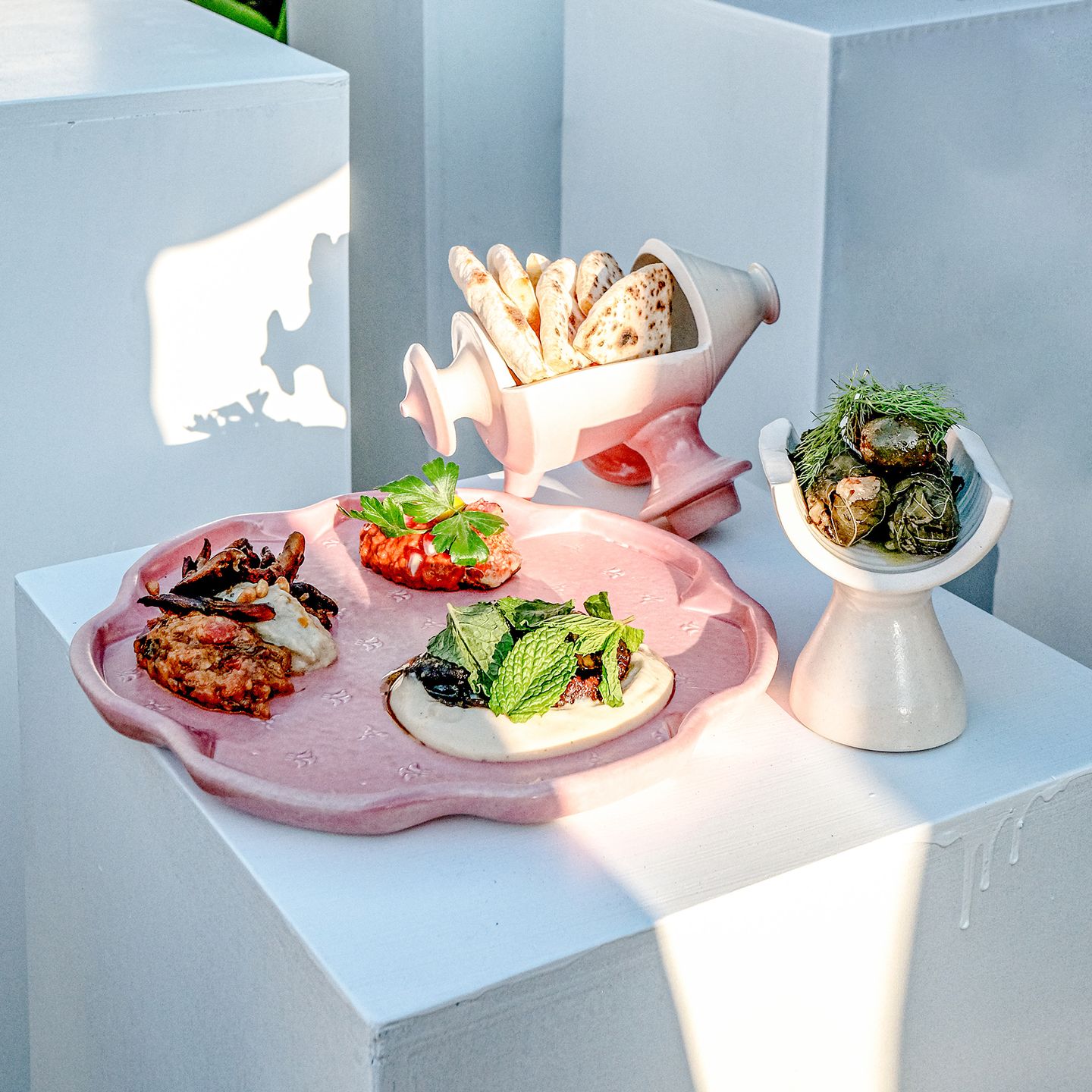 Chef Ryan McIlwraith's entry, served up on Jered's Pottery.
What were your top takeaways?
KFW: One of the things that struck me was hearing the presentation from Luiza Villela, CEO of unClassic Foods. Her company focuses on creating delicious proteins from mushrooms as a center-of-plate, not meant to reproduce the qualities of meat. Right now, she's the sole employee of her company and for her, it's important to be in a shared kitchen space. Her talk emphasized the importance of being with other people in the workplace—to know she's not alone, to find inspiration, etc. Many of my clients are wrestling with return-to-work challenges, so it was refreshing to be reminded of just how important it is to have the physical presence of other people. Sharing space is tantamount to sharing ideas.
The audience enjoys Luiza Villela's (unClassic Foods) talk about her effort to market mushrooms as a luxury alternative to meat protein.
KN: For me, the event signified the importance of the stretching—getting out of your comfort zone. This was true for the scientist-entrepreneurs who are pioneering this new approach to meeting the world's growing demand for meat protein in the food supply, and also found themselves at a potter's wheel for the first time; the top chefs, who were working with a new food and cooking in a non-traditional way; the sponsoring organizations, who tried something new to engage the community; and all the people who attended and were open to mixing it up in this unique outdoor venue. Everyone really enjoyed themselves.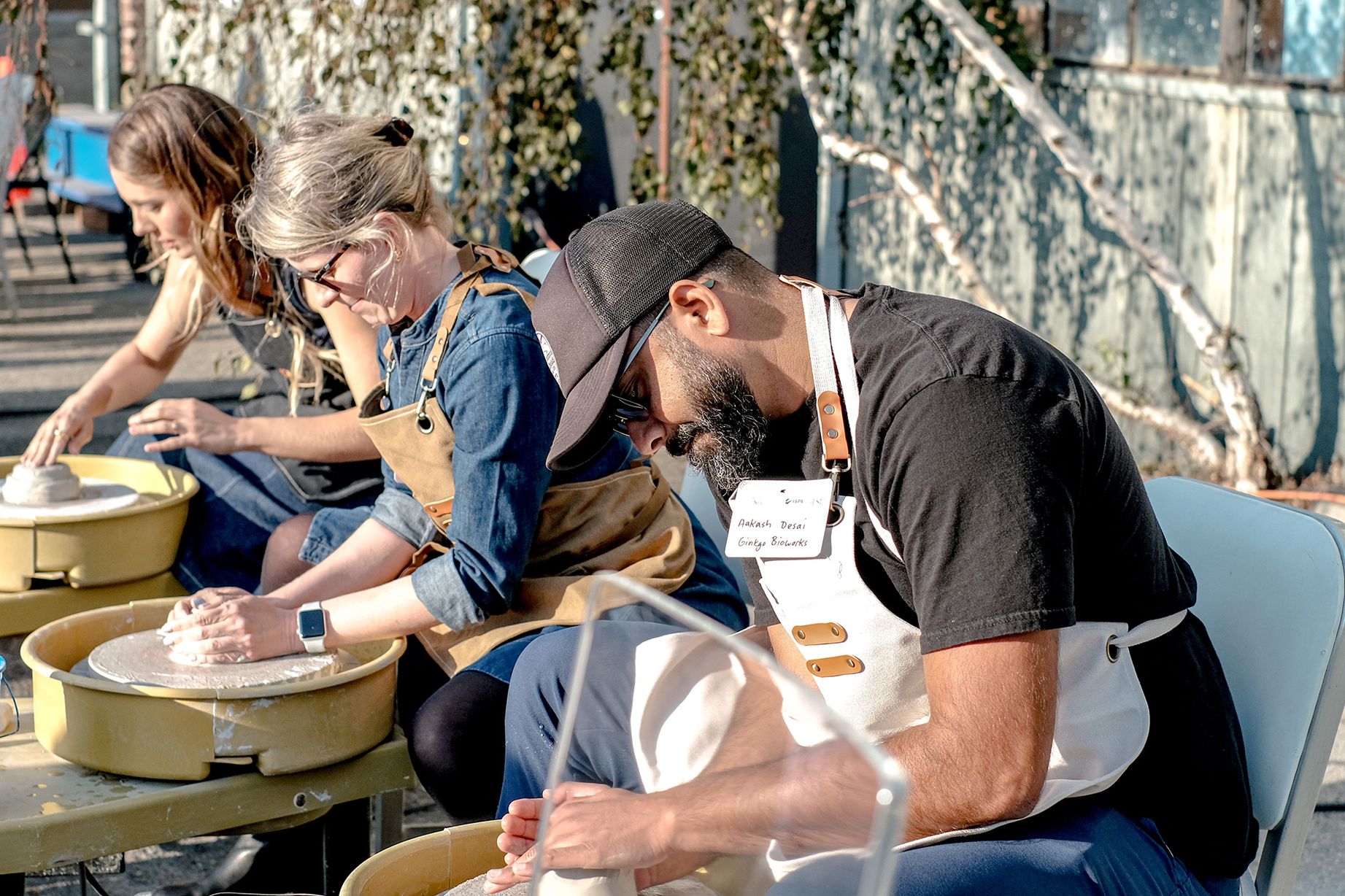 Scientist-entrepreneurs giving pottery a competitive spin at the wheel.
A rapt audience watches as the judges evaluate the pottery entries by the scientist-entrepreneurs.
KFW: Yes, and I think the event's success is also a testament to creating a good environment with a comprehensive feeling of hospitality. A good, flexible gathering space is a common denominator among amenities. 
What do you think the future holds for this industry?
KFW: Food is one of those foundational topics that everyone is interested in—it's bound up in our daily lives as individuals and is also a cultural touchstone. Food Tech is exciting because it's part of that, and more: it's forging important new directions for sustainable food supply systems. And it's a growing sector here in the Bay Area. Alternative proteins—both cell-based proteins and plant-based proteins—will be key to the future of food worldwide. Right now, the world's demand for protein is outpacing the ability to produce it. These companies are striving to come up with more tenable ways of satisfying that demand. Many of these companies are just receiving approvals—from the USDA and/or the FDA—for their products. 
KN: A lot of food tech products are not in the market just yet. One challenge of the event was that we needed to find Food Tech entrepreneurs who could provide samples for our chefs to use in the kiln challenge.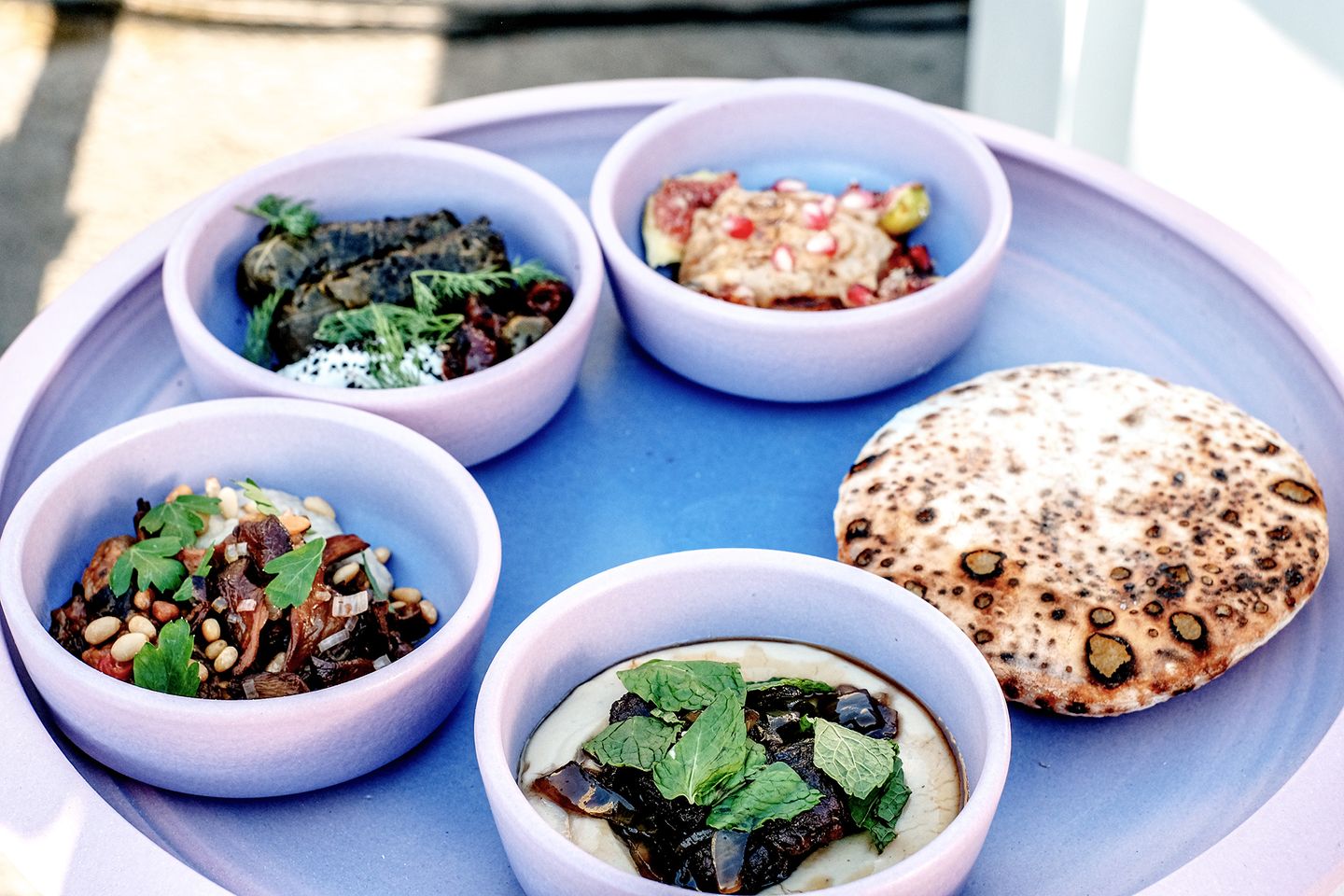 Each chef-created entry incorporated alternative proteins from the panelist-represented companies: plant-based Foie Gras and Rhiza protein from The Better Meat Co, fermented (lab-grown) beef from SCiFi Foods, and mushroom steak tips from unClassic Foods.
Chef Ryan McIlwraith surveying his Mezze platter.

Judges Kirsten Fordyce-Wheeler (DES) and Josh Bridie (Google) deliberate and taste the chef's entries.
KN: There's a long and expensive road to producing at scale, so financing is one of their barriers. Beyond that, many of us at the event were asking how we can support this emerging industry here in the Bay Area and beyond. What kinds of spaces and services will enable them to thrive? What are the most important and unique characteristics of R&D and manufacturing space for these start-ups as they grow? 
KFW: The spirit and attendance of real estate related professionals at the event suggests that the Bay Area will continue to be a good location for these companies. We were excited to hear these entrepreneurs talk about their needs, which provided important insight on how to think about their space.
Event sponsors and participants
Judges
Robert Scarf, Global Account Manager, MillerKnoll
Joshua Bridie, Global Director of Interior Design, Google
Kirsten Fordyce-Wheeler, Director of Interiors, DES
Chefs
Ryan McIlwraith, Executive Chef of Alora (opening soon)
Sarah Rich, Chef/Owner of Rich Table
Bill Corbett, Executive Global Chef of Salesforce
Panelists / Speakers: 
Dr. Kasia Gora, CTO/Co-Founder of SCiFi Foods
Michael Selden, CEO/Co-founder of Finless Foods
Doni Curkendall, EVP Operations of The Better Meat Co.
Luiza Villela, CEO of unClassic Foods
Sponsors
CoreNet
ISPE
I2SL 
In-Kind Sponsors
DES / Light Fiction (Photography and Videography)
CRI (Furniture and Event Set-Up)