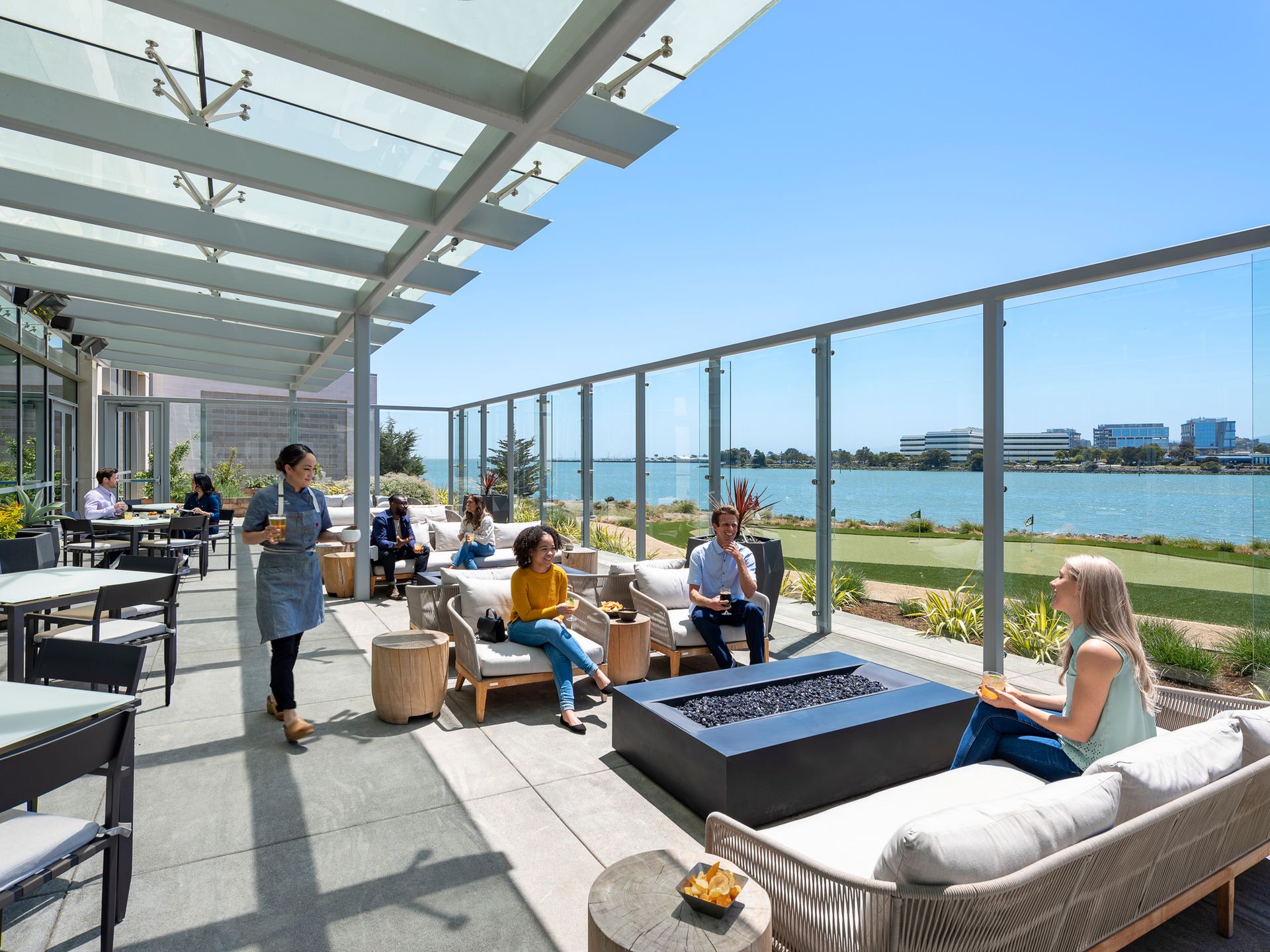 Chandlery at the Shore
Harboring Hospitality
Forged on the waterfront
It's been quite a transformation. The 20th century coastline south of downtown San Francisco was dominated by roughhewn shipyards where steel was wrestled into warships. In the 21st century, it's become a landscape for innovative industry of a new kind, and a prime example of that is The Shore at Sierra Point. In the 2000s, DES first worked on this project to turn a landfill peninsula into a life-science campus for research and discovery. A decade later, The Shore was 600,000 SF of gleaming glass-and-steel buildings linked by sprawling open space, and DES had a new brief: reimagine the amenities inside and out to create a warm and welcoming experience for scientists and visitors alike.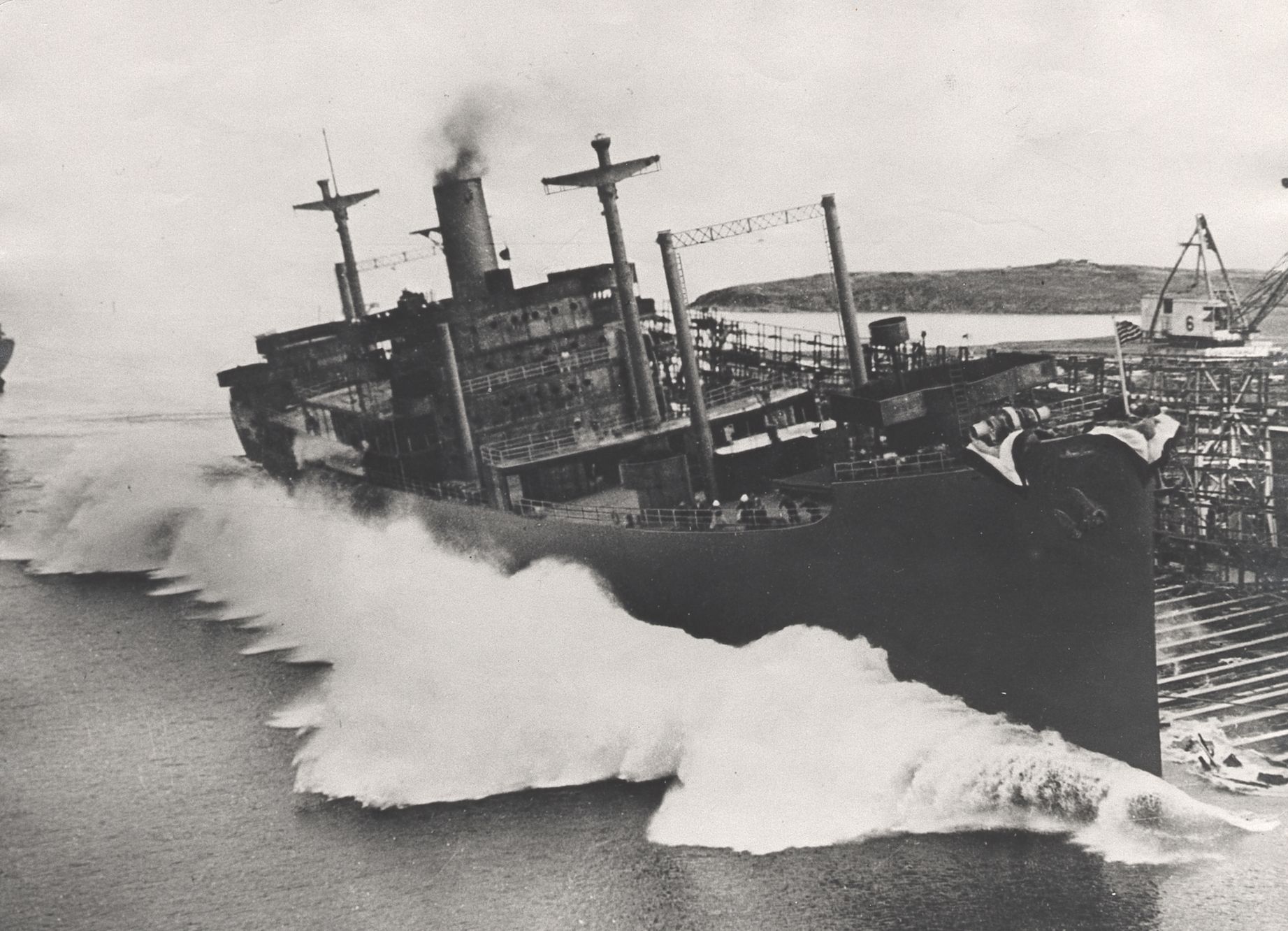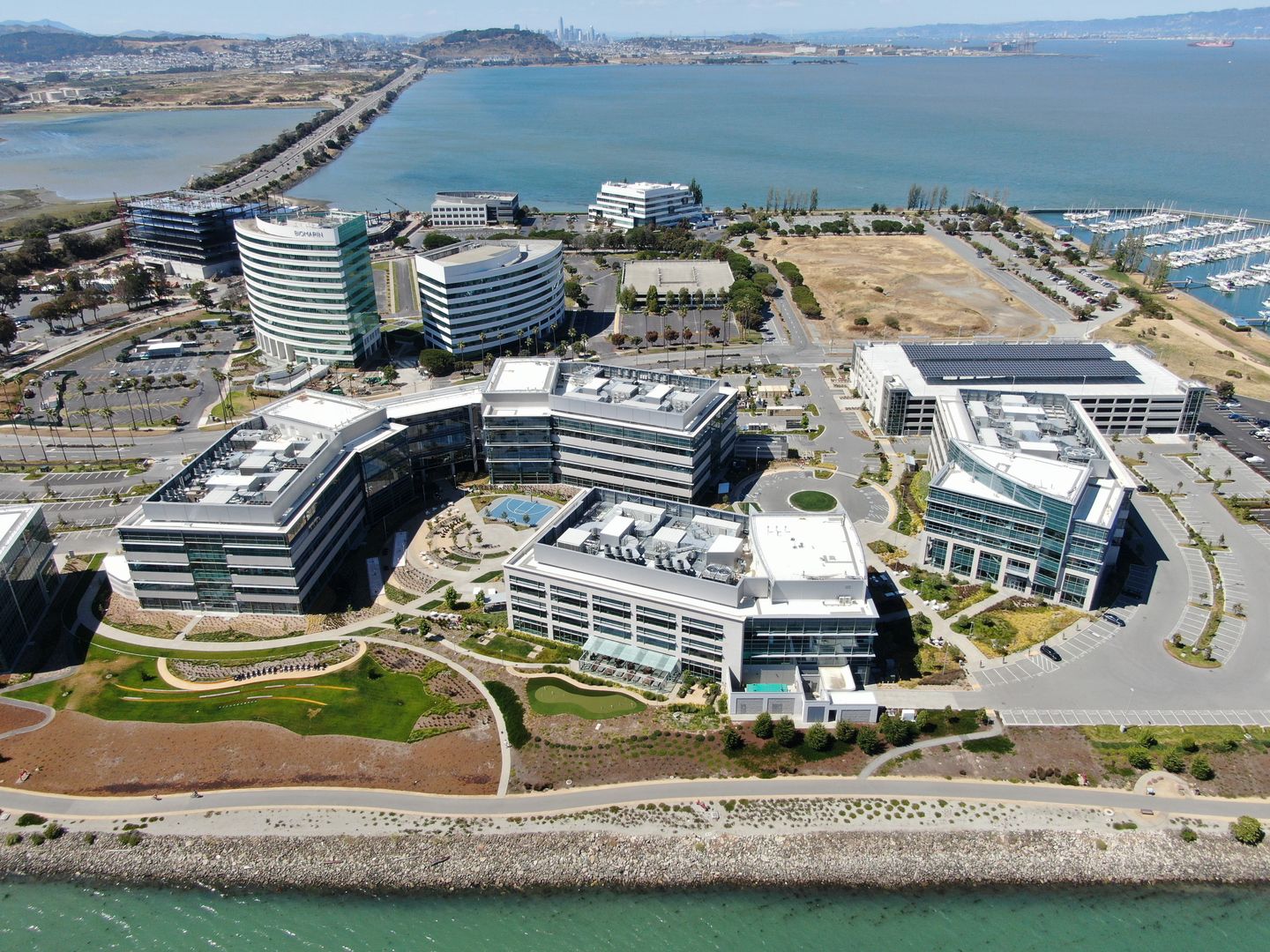 Innovation meets recreation
When The Shore was first developed, high-tech campuses were rich with amenities, while life-science facilities had few or none. We saw the potential for cross-pollination, and our work on a nearby project, The Cove at Oyster Point, proved that scientists love a high-end food hall just as much as tech workers do. That insight sparked our big idea for The Shore: a waterfront watering hole. With its floor-to-ceiling windows and views onto the bay, Building E presented us with an opportunity to break open the buttoned-down feel of the office park and create a cozy and inviting community hub with the ambiance of a neighborhood bar. We borrowed from the hospitality industry, where it's common to seek inspiration in the heritage of a place, and looked to the area's maritime past for design solutions. An environment of cutting-edge innovation called for sophisticated evocation rather than literal interpretation, so we arrived at a subtle "steampunk" theme that celebrates the materiality of the ships once built just up the coast.
A key to the cozy feel was warm materials, such as the red cedar plank for the bar top.
We worked closely with Bon Appetit Management, a company providing corporate catering, to create an atmosphere that was cozy.
The curated accessories, such as ship's lanterns, that summon up the area's nautical history are the real thing, sourced from Bay Area antique stores.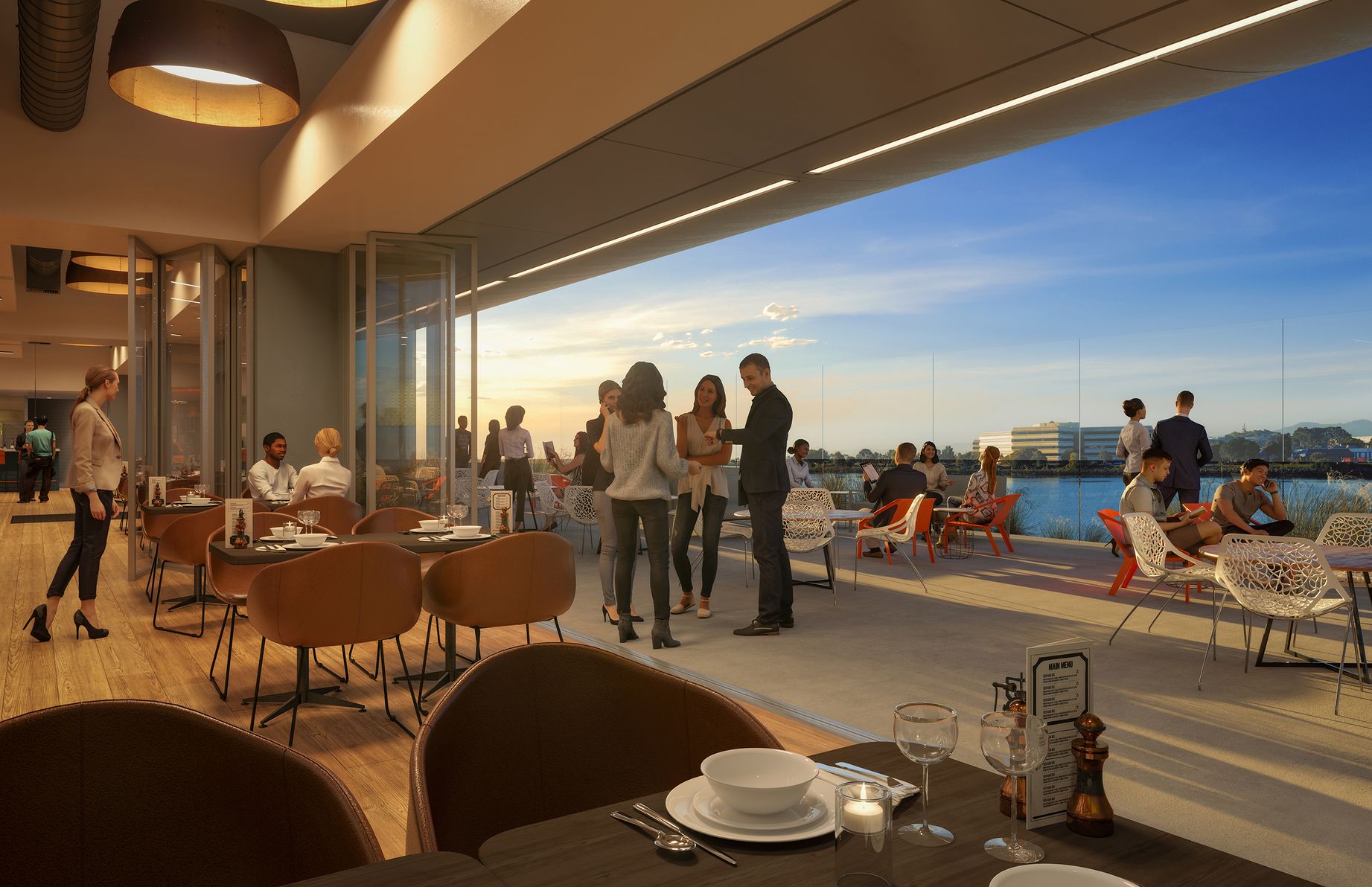 Locating the café in Building E meant working within the constraints of a narrow, angled space, but also taking advantage of a south-facing orientation that allows the patio to be used in most weather.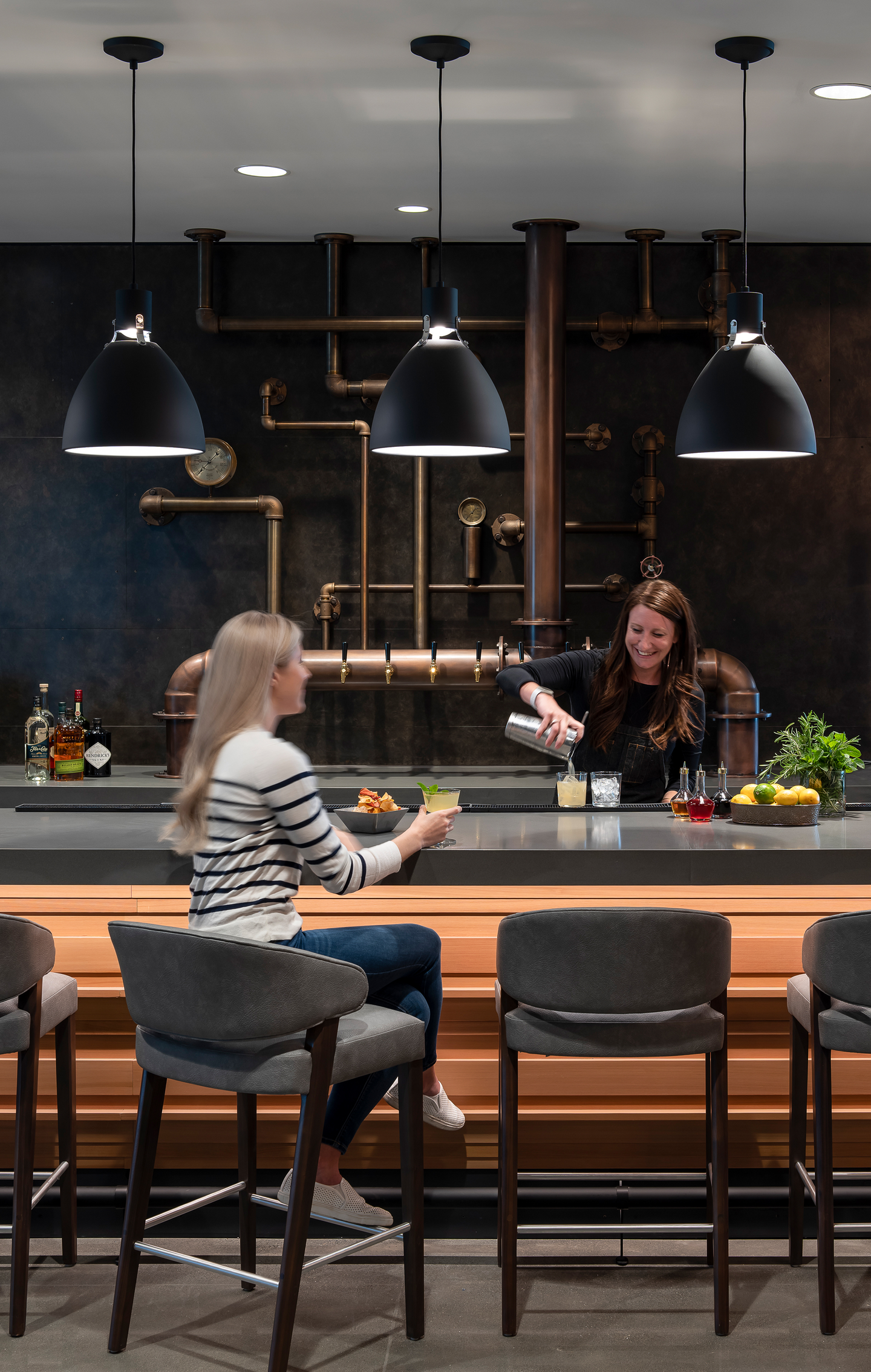 The bar tap piping, inspired by the Victorian-era author Jules Verne and his submarine, was imagined as the continuation of a steam engine on a ship, and we chose copper and bronze as the materials, rather than shiny metal, because they develop a patina that looks aged.
Key Info
Client

Healthpeak and Bon Appetit

Sustainability

LEED CS Gold